Guide to Non-Qatari Ownership and Use of Real Estate in Qatar.
Expats in Qatar are a big part of the population, making up around 85%. They choose to rent or buy a property during their stay in the country, which means they play a significant role in the real estate market. Therefore, Qatar's government has introduced several initiatives to encourage and facilitate real estate investment in the country. These initiatives include Decision No. 28 of 2020 that has specified the areas where non-Qataris may own or use the real estates in addition to the conditions, controls, benefits and procedures for their ownership and use of such properties.
Many non-Qataris have several questions in mind when considering investing in Qatar, we will address some of these inquiries to provide you with a comprehensive understanding of non-Qataris' Ownership and use of the real estates in Qatar.
Why should I invest in Qatar?
Qatar stands as the most secure tax-free country within the GCC, boasting a stable economy and a welcoming atmosphere for families. As for purchase investments, you will not only secure a prosperous future but will also be granted a permanent tax-free residence in Qatar along with guaranteed inheritance.
The Qatar National Vision 2030 balances economic growth, human development and environmental protection. It provides a clear path to ensure the health, prosperity and welfare of the country's citizens.
This vision encompasses economic, social, human and environmental pillars to guide the country's progress in the coming decades for the benefit of the entire population.
What is meant by Freehold and usufruct (99-Year) Ownership?
Usufruct, or 99 years Ownership entails the leaseholder's authority to sell, transfer, or lease real estate for a duration of 99 years.
Freehold ownership in Qatar refers to the right to possess real estate within areas designated by a decision of the Council of Ministers; foreign individuals can acquire such ownership through freehold ownership or usufruct ownership.
What real estates are non-Qataris allowed to invest in?
The real estates in which non-Qataris are allowed to invest are: Lands, residential units, such as villas or any detached units in any residential complexes, offices and shops in commercial malls, buildings and establishments.
What are the areas where non-Qataris are allowed to own or use real estates in Qatar?
The areas are divided into freehold areas and usufruct areas.
Freehold areas are: West Bay (Legtaifiya), the Pearl, Al Khor Resort, Al Dafina, Onaiza, Lusail, Al Kharaij, Fox Hills, (Check out some prominent projects in these areas)
Areas of usufruct areas for a period of 99 years: Msheireb, Fareej abdel Aaziz, Al Doha Al Jadeeda, Al Ghanim Al Ateeq, Al Rufaa & Al Hitmi Al Ateeq, Al Salatha, Freej Bin Mahmoud, Rawdat Al Khail, Al Mansoura Freej Bin Dirham, Najma, Umm Ghuwailina, Al Khulaifat, Al Sadd, Al Mirqab Al Jadeed, Freej Al Nasr, Doha International Airport Area.
Freehold Areas in Qatar
| Area Name | Zone |
| --- | --- |
| Westbay (Legtaifiya) | 66 |
| The Pearl | 66 |
| Al Khor Resort | 74 |
| Al Dafna (Administrative Area) | 60 |
| Al Dafna (Administrative Area) | 61 |
| Onaiza (Administrative Are) | 63 |
| Lusail | 69 |
| Al Khuraij | 69 |
| Fox Hills | 69 |
Usufruct areas in Qatar
| Area Name | Zone |
| --- | --- |
| Msheireb | 13 |
| Fereej Abdul Aziz | 14 |
| Al Doha Al Jadeeda | 15 |
| Old Al Ghanim | 16 |
| Al Rufaa & Old Al Hitmi | 17 |
| Al Salata | 18 |
| Fereej Bin Mahmoud | 22 |
| Fereej Bin Mahmoud | 23 |
| Rawdat Al Khail | 24 |
| Al Mansoura & Fereej Bin Durham | 25 |
| Najma | 26 |
| Umm Ghuwailina | 27 |
| Al Khulaifat | 28 |
| Al Sadd | 38 |
| Al Mirqab Jadeed & Fereej Al Nasr | 39 |
| Doha International Airport Area | 48 |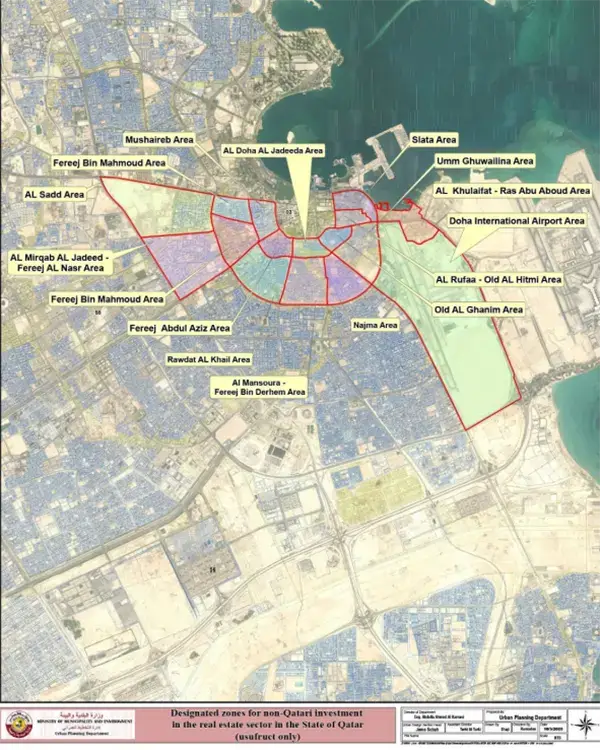 How many properties are non-Qataris allowed to own in Qatar?
There is no specific number for real estates located within freehold areas. They also can own one housing unit in residential compounds outside the freesholds mentioned above.
What are the restrictions on property owners and beneficiaries when it comes to disposing of their real estate?
Non-Qatari owners can do whatever they want with their real estate (sell it, rent it out, or use it for investment). However, if the property is land, they must start building on it within four years of purchasing it.
Can I get residency when owning a property in Qatar?
- yes, if the value of the real estate is not less than 2,00,000 USD, approximately 730,000 QAR, real estate owners will be Granted residency without a sponsor needed, provided that the residence period of it in Qatar shall not be less than (90) days a year, whether continuously or intermittently.
When can I get a residency and the benefits prescribed to permanent residents in Qatar?
- If the value of ONE real estate, or SEVERAL properties, is not less than 1,000,000 USD, approximately 3,650,000 QAR, Foreigners will be Granted residency with permanent residency benefits, including health care, education and profitable investment.
Can the right to use and benefit from property be granted to non-Qataris be inherited?
- Yes, the right granted to non-Qataris to use and benefit from property is inheritable, meaning that it doesn't expire with the death of the person, but is instead transferred to their heirs.
Is it allowed for non-Qataris to own real estate through inheritance?
A non-Qatari may own real estate in areas not specified in the decision that designates freehold areas for non-Qataris, provided that it is received through inheritance or a will, under the following conditions:
That the property is allocated for residence.
The area should not exceed 3,000 square meters; and-
Their (Non-Qataris) residence in the State is continuous.
However, if there is more than one real estate, he/she shall dispose of the rest of the real estate to a Qatari person within two years from the date of transfer of ownership to him/her.
How can I make well-informed decisions about my investment?
This step involves careful consideration and thorough research. You need to explore various investment options and understand the characteristics and potential returns of each option. Consult investment experts and professionals who can provide you personalized guidance based on your goals.
At Steps Real Estate, investors are provided with transparent knowledge and statistics-backed information essential for the investment process in Qatar. We offer valuable insights into the housing market by monitoring supply and demand dynamics.
Visit our Market Insights for more comprehensive data and analysis in the real estate market.
---
In conclusion, non-Qataris can invest in a wide range of real estate in Qatar, including freehold and usufruct properties. There are some restrictions on ownership and disposal, but the benefits of investing in Qatar are significant, including residency and permanent residency.
+97466346605